By Stitch on 22 July, 2007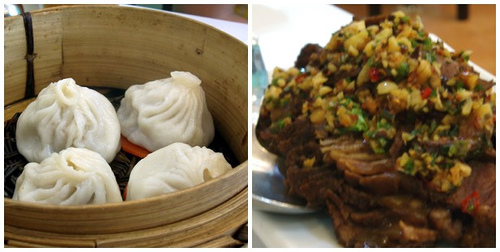 Xiao Long Pao and Steamed Beef with Garlic
There are dining experiences that one can't forget, and then there are those one can't remember. And sometimes, it isn't because of anything particularly wrong with the experience; it just doesn't stick. That's my impression of Su Zhou Dimsum.
As Franco had so aptly described the place, it's out of the 70's. Way out. Green and white walls, the odd "waterfall" beside the front door and the fish tank below filled with, well, with goldfish. Wasn't swallowing goldfish a 70's thing? Or was it a 50's thing? No matter. On to the place itself.
Actually, I'm not surprised by the appearance of the place and its apparent contempt for interior design. Most small Chinese food places share the same spartan sensibilities. Binondo, where I spent a good part of my working life, is actually an entire town built with the same utilitarian sensibility. So, the place, while potentially bothersome to people used to places like North Park with its stainless steel tables, the whole retro-because-we-don't-care vibe is not a deal breaker for me.
What does bother me are the mismatched chairs. It's one thing to have mismatched chairs because there aren't enough of one set, it's quite another to have them done on purpose. Yes, I get the attempt, the problem is, it looks sloppy instead of shabby. In a place that was otherwise very clean, the mismatched furniture gave it a needlessly messy look.
Ah, but I digress. On to what we (my family and I) ate.
We had the Xiao Long Pao (P75), of course. Surprisingly heavy, it reminded me of my son when his swimming trunks get wet. It was actually quite a delight, with the thing remaining steadfastly solid, despite memories of wet trunks floating in my head; it was very good. The broth was sweet and a bit fruity, which was actually an excellent balance to the other food we had. I was impressed with how well the thing held together, actually, given that it was filled with broth.
Aside from that, we had the Steamed Beef with Garlic, the Fried Chicken, and the Salted Fish Fried Rice (The only fried rice we get, since it has no shrimp. Allergies have forever cramped our eating style. But when there are shrimps, I do try to relay the flavor to my wife.)
The Steamed Beef with Garlic (P200) was also a surprise, being pillowy soft and mildly seasoned by itself. It does come with a rather potent oyster sauce dip, which gives it all the salt it would need. It was topped with garlic and onions and, because we said we wanted it mild, one chili pepper. The flavor was light, a surprise given that it was beef, and very pleasant, with no gaminess or pungency one would associate with typical beef dishes. Very good stuff.
The Fried Chicken (P170/half) was also very good, but not as surprising. It was seasoned the way all Chinese fried chicken gets seasoned, although this one was fried very well, being soft and juicy, while being nicely crispy outside. It came with several dips, notably a black vinegar and ginger dip and what was mapo dipping sauce, I think. In any case, my son liked it enough to take his eyes off the goldfish, who were already too self conscious of being stared at and were huddled in one corner of the tank. Oh, and of course it had kropek.
Of the dishes we tried, it was the Salted Fish Fried Rice (P105) that was a letdown. It was fried rice and done rather competently, but as to what kind it was, well, we wouldn't have been able to guess had we not ordered it. Thinking back, we could have passed on that one.
While we were enjoying what was in general, a nice meal, people from the nearby residences would amble in and order dishes to take home. They also had a freezer where they sold some of their wares in reheatable form. That's when it hit me.
This place is perfect – as a neighborhood dimsum place. As a restaurant to travel to, well, there are more impressive places and better food. Three car parking lots don't exactly encourage people to stay, either. But for a place to pick up some decent Chinese food, it makes better sense.
In the end, I remember the place (in all its glory) more than I actually remember the food, which doesn't improve its impression on me, either. But there isn't anything wrong with anything about the place, it was just not enough to make it stand out in my mind. Would I go back? Maybe, if I remember.
Oh, wait, there is one thing wrong. Those (framed!) pictures of old Chinese soap ads in the bathroom. Why?
SuZhou Dimsum
A. Mabini cor. Araullo Street
Mandaluyong City
Tel (02) 721-6105
Ground Floor Food Court
Promenade Greenhills
San Juan
Tel (02) 744-3846
Many thanks to Franco for the use of Su Zhou pictures


LABELS: Manila, Restaurants, Stich, Su Zhou Dimsum