By Salamia on 30 July, 2007
It's always good to have that dependable Chinese restaurant just around the corner. Think Sandra Bullock in Two Weeks Notice, Mickey Blue Eyes and The Firm. To be honest I'm a North Park kid myself. I have it stored in my head that their hotline is now 73737 and always order the Salted Garlic Squid (or alternatively, the Sweet and Sour Fish), Yang Chow Fried Rice and the Three Kinds Mushroom with Brocolli. And despite all the bad press about it, I love MSG. (And hey, to the suckers, read this.) Ajinomoto is the shiznit. That vetsin is cancerous is just another First World marketing ploy to keep Chinese competition at arms length. The Chinese should actually retaliate with bad press on the amount of SUGAR used in Starbucks frapuccinos. But I digress …
The dependable Chinese restaurant subject of this story is … (BIG SURPRISE HOLD YOUR BREATH) Su Zhou. Truth be told, I would never have found myself at this place if Franco had not chosen it as the spectacle of the month. My loyalty to North Park, Hap Chan and Hei Chin Rou, albeit developed by geographical convenience (take a wild guess where I live), is stronger than oak. Only Y U N in Escolta can pull me away.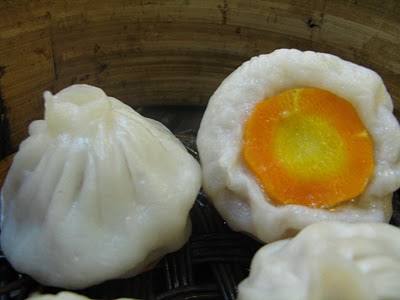 Special Xiao Long Pao
But Su Zhou, I found, has its own charms that may be worth braving Shaw for, beginning with the first item on the menu, the Special Xiao Long Pao (with matching star beside – kasi sobrang special siya.) Don't be misled to thinking it's some kind of siopao. Pareho lang sila ng apelido. But like Indiana Jones and Angelica Jones, no relation sila. Actually it should be the Special Xiao Long Mai or the Special Xiao Long Kaw because it's more like siomai (steamed pork dumpling) or hakaw (steamed shrimp dumpling). But whatever. I don't speak Chinese so I'll just accept the name … and the star beside it. (By the by they call their siopao the Ah Pao, probably to avoid confusion with the Long Pao. But I digress … )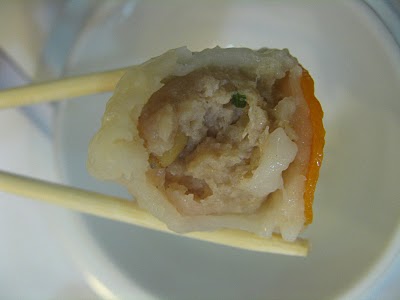 Inside the Xioa Long Pao
The star in fact, is credible. The XLP (naks, I just Filipinized the name by putting initials to it!) is in fact Special because it is not your ordinary dumpling. It has SOUP in that soft white enveloping blanket as well! Yup, you read that right. Soup. So it bursts with broth as you plop it in your mouth. So you can imagine the texture action going on: the soft dough, the ground meat, both moistened by the broth … And dig this: they put a slice of carrot to saucer the dumpling so there's a slight sweet crunch as you bite into it. All this fresh from the kitchen and steamy hot too (you can literally see the soft steam as they serve it to you). I really enjoyed it.
Unfortunately, they don't serve hakaw, which is a MUST for me in a Chinese restaurant. It's always the first thing I order and the reason I fell in love with Hei Chin Rou. So minus points for that. In its place they have the Shrimp and Pork Dumpling, which also comes with the carrot on the bottom. This also tasted good but it's still no hakaw. I guess they just don't believe in the benefits of an independent shrimp.
They're also a big fan of Kuchay, with a Kuchay and Pork Dumpling and Pan-fried Kuchay & Pork Dumpling on the dumpling menu as well. I didn't try this though. Hopefully the rest of the Table did.
I like the Su Zhou dumplings because they're similar to real Chinese dumplings. Well, the Chinese dumplings I've tasted anyway, which was just in provincial China. I went to Yangshuo earlier this year and got to try real Chinese dumplings for the first time. I found it to be different from what we have in Chinese restaurants here in the Philippines. The only other Chinese restaurant that I have found with similar dumplings is Dong Bei in Chinatown.
The noodles are also good at this restaurant. I had the Special Taiwan Beef Noodle Soup (also with a star), upon the recommendation of our candid server Luchi. It is slightly spicy and perfect after a long day.
For our main course (is it obvious I eat a lot – intro lang yung noodles), we had the Drunken Chicken in Hot Pot and the Fish in Tausi Sauce. The drunken chicken is a curious dish. The chicken didn't taste like your ordinary white meat chicken but tasted … darker. Maybe it had a buzz, maybe it was the hot pot (because the meat parts didn't look dark). I don't know, but it tasted too different for me to appreciate it. The fish was pleasant, though. Actually, I enjoyed the tofu that came with the dish. They come in generous blocks and the overall mix of the dish peppers it with flavor. I'd order it again.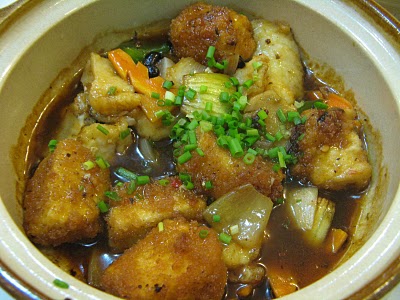 Fish in Tausi Sauce

For dessert, I had something Filipino instead because beside our table was a refrigerator that housed some Fruits in Ice Cream and it started its cajoling me from the time I finished my first XLP. Strawberry.
All in all, in my humble opinion, Su Zhou is a great Chinese diner. A dependable neighborhood restaurant, and it showed with the turnover rate I witnessed on the weekday I paid a visit. I counted 6 parties from the time I sat down to the time I left – a pair of Chinese businessmen as I entered, a solo Chinese dude as I chewed on the dumplings, a younger Filipino Chinese looking dude who ordered to go, an old couple, a group of three men, and a group of four yuppies as we left. Not bad for two hours. And it was raining hard.
SuZhou Dimsum
A. Mabini cor. Araullo Street
Mandaluyong City
Tel (02) 721-6105
Ground Floor Food Court
Promenade Greenhills
San Juan
Tel (02) 744-3846
LABELS: Manila, Restaurants, Salamia, Su Zhou Dimsum