By franco on 5 July, 2007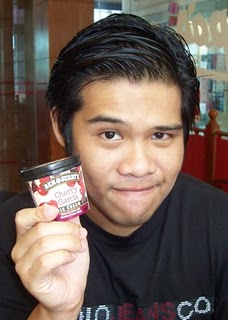 Ian Carandang

started with a craving to make his own Chucky Monkey. His craving became a hobby and with the help of a couple of college buddies, his hobby has become a business. Now, he creates his own brand of ice cream that people cannot seem to get enough of.

As Lori of Dessert Comes First wrote, "
Move over, Ben and Jerry's. Your successor is here." After a taste of Sebastian's Ice Cream, we guarantee, you'll agree.
Who in your life has influenced your ice cream making the most?
Without a doubt, Ben & Jerry's Ben Cohen and Jerry Greenfield. These guys are my McCartney and Lennon. The sense of playfulness and creativity they have with their flavor combinations and flavor names, some of which can be really bizarre (check out their flavor graveyard) but never boring. They resonated with me in a way Haagen-Dazs never did.
There's one little anecdote in their book about how the were supposedly at an impasse; One of them wanted big chunks in their ice cream while the other wanted lots of little chunks to ensure that every mouthful would have a chunk. So their "compromise" was to have lots and lots of big chunks. Regardless of how true that story actually is, I love that, and I love the type of thinking that would come up with that. It's ice cream; it's supposed to be rich and full of good stuff.
Which book has had the biggest impact?

Ben & Jerry's Homemade Ice Cream & Dessert Book. I consider this my bible. It taught me a lot of the basic fundamentals about ice cream which I still use today. Apart from the delicious recipes, it also had a lot of material about how they started out and is a joy to read. You can really get the personalities of the two of them which comes through in their product; something that we also have in common.
How was your first attempt at making ice cream?

About 10 years ago my balikbayan aunt was making one of her trips home, and asked me what I wanted as pasalubong. I had just got my Ben & Jerry's recipe book from Amazon.com (wala pang Fully Booked back then) so I asked her to bring me an ice cream maker. She got me one of those old school ones; where you put the mix in a freezing cylinder and fill the outer container with ice and rock salt.
In retrospect, I think it's a good thing she did get me that first and not one of the newer models, because it really did start me off on the basics of ice cream and how it's made. Its as much a science as it is a culinary thing, as you have to know how freezing will affect ingredients' taste and texture. My first-ever flavor was my own version of Chunky Monkey; a banana ice cream with walnuts and Dark Chocolate chunks, which I couldn't get enough of at the time. I didn't know what I was doing back then; it was a little bit icy and too dense, but I didn't care, it was delicious.
What made you decide to open Sebastian's Ice Cream Studio?

I had been making the ice cream as a hobby and as a dessert item at our little family resto Hotstix Barbecue for a few years; when Vito Lazatin, my classmate from UP College of Business approached me about possibly turning it into something more. I had always had dreams of opening my own ice cream parlor with my stuff, but I was more of a creative type and really lacked the organizational skills and discipline to handle the 'everything else' part necessary for this type of venture. I jumped right in, and Tony Bondoc, another classmate from UP came on board as well (he was the one who actually coined with the Sebastian's name) and we've been the Sebastian's trio ever since.
What is your favorite item on the your menu?

The answer to that changes by the week, but currently it's my latest baby Birthday Cake ice cream, which is Cake Batter ice cream swirled with gooey marshmallow frosting and rainbow sprinkles. Cake Batter ice cream is my new favorite gastronomic toy, just so unapologetically sweet and rich. Its an American tradition (which may or may not resonate with Pinoy audiences) that calls to mind childhood memories of your mom in the kitchen baking a cake from scratch, and you got to lick the bowl where she mixed the batter when she was done.
Cake Batter is a relatively new flavor, just invented a few years ago in the US by Cold Stone Creamery (I gotta give credit where credit is due). But beyond the unique taste which I love, what I like about Cake Batter it is that it disproves the notion that nothing is original anymore (my least favorite statement of all time, incidentally). It shows that not everything has been invented yet, and that the next blockbuster ice cream flavor is just a flash of inspiration away.
What was your most memorable ice cream experience?

Hands down, a double scoop of New York, New York from Coney Island Ice Cream from either the Shoppesville Arcade or the Fast-food Court next to Unimart in the Greenhills Shopping Center when I was a kid. That was simply the best ice cream I had ever had, as it was heads and shoulders above anything that Magnolia and Selecta were doing at the time. Even now, I dream about trying to recreate New York New York for today's audiences, but I can't remember what was in it, except that it was deliciously rich, creamy, and had a type of nut. Coney Island was simply ahead of their time.
Besides your own, whose ice cream do you love, local or foreign?

Besides the aforementioned Coney Island New York, New York, I loved Kopen-Hagen. Both of these places offered quality ice cream with flavors beyond the norm at affordable prices, and both of them were sadly ahead of their time. Selecta's (the REAL Selecta, not the impostor we have now) Choco Almond Brownie. That was the richest chocolate ice cream I had ever had as a kid; it showed me the sublime pleasures of Dark Chocolate before I even knew what Dark Chocolate was. Note that none of the ones I mentioned exist anymore.*sob*
What junk food do you love?

American Comfort food: a good bacon cheeseburger burger with fries, Southern fried chicken with mashed potatoes and gravy. Anything fried well I'm sure to like, and Americans have elevated deep-frying into an art form. I don't actually eat that much snacks and save it all for the big meals, primarily breakfast. I'm also a huge breakfast fiend and I love all breakfast foods: Sinangag, bacon, sausage, scrambled eggs with cheese, ham, hash browns, spicy tuyo, fried eggs, longganisa, etc. We all owe a debt of gratitude to the culinary pioneer who first thought to combine garlicky fried rice with eggs and an ulam. I'd eat breakfast three times a day if my body could handle it.
Is there an ice cream flavour you just can't seem to enjoy?

I thought there was no such thing as an irredeemably bad batch of ice cream (and this is coming from someone who's made flavors out of kamote, wasabi and haw flakes) but Arce Dairy's "Caramel" ice cream is a crime against humanity. Instead of it being caramelly sweet, they go beyond caramelization when they cook their sugar and turn it into charcoal, and it shows in the taste. I had to try it from two different places just to make sure that I didn't get a bad batch, because I couldn't believe that someone would make bitter ice cream on purpose. I wont dispute that some people like it otherwise they wouldn't make it, but that is NOT caramel ice cream.
That, and Durian ice cream, for obvious reasons.
Just between us, what are your future plans?

Getting Sebastian's ice cream into the right places where the people who appreciate our stuff can get them, whether by scooping stations in malls or pints in specialty stores. Opening up our first true blue ice cream sit-down parlor. Coming up with some new products that utilize ice cream in ways people haven't seen before. Inventing that one ice cream flavor that will join the roster of 'hallmark' flavors like Double Dutch, Rocky Road, and Cookies & Crème that will be copied by the big guys and immortalized.
Beyond that though, and most importantly, Getting BALANCE in my life by learning how to delegate, and finding enough time for myself to exercise and get back in shape, and for making music, my other passion in life.
Sebastian's Ice Cream Studio
Alabang Town Center
Cinema Level
San Antonio Building
1595, Quezon Avenue Quezon City
Telphone: (2) 413-8359, (2) 924-0815
Email: sebastians.icecream@gmail.com

LABELS: Ian Carandang, On The Table, Sebastian's Ice Cream Studio