By Guest on 31 July, 2007
This was a tough but fun post that I'm glad Franco convinced me to write. I always love to eat and look for unique experiences even before I started blogging. So my wife and I had to brainstorm on the top 10 Most Memorable Meals ever in our life. In some cases, I have to dig up old photos just to share with you the experience. The list below is in no particular order because each one is unique and memorable in itself. The common denominator between all of them is that they are enjoyed with love ones or friends that you care about enjoying sumptuous meals that you will never forget. Enjoy this list:
I'm glad that I was able to get a picture of this Tagaytay Picnic way back in 2001. Rache was still in denial at this time and she gave me the precious "yes" a few months after. This was Valentine's Day. I was still courting Rache and she agreed to have lunch with me on Valentine's Day. Little did she know that my plan was to drive her all the way to Tagaytay and be back by 2 p.m. in the office. I asked my friend Grace to help me buy the picnic basket, the picnic cloth and how to setup the entire lunch. I bought three roses, our favorite Italianni's Chicken Parmigiana and a surprise cellphone gift (hehe). This was so memorable and I will never forget this "kilig" moment.
I have been to Kubli springs three times already and I can't stop raving about the experience. Imagine eating in a spring in the middle of nowhere (literally) with great gourmet food cooked before your very eyes. You drink the cold water from the springs and if you are adventurous you get to take a bath in pure mineral water. You spend the entire night singing with an acoustic guitar over the Best Lambanog that I have ever tasted or Cafe Barako brewed uniquely by Jay.
Isla Naburot in Guimaras serves the best Filipino Food I ever tasted in my entire life! Fresh seafood grilled to perfection, amidst fresh sea air, with sinamak vinegar as a bonus… All the meals served in Isla Naburot are how Filipino food should be cooked and served. Unfortunately, you have to fly all the way to Iloilo and take a boat to Guimaras to experience this. The experience was so memorable that I don't know where to start blogging about our Isla Naburot experience…
Ever since I started blogging, Claude Tayag's Bale Dutung meal was on top of my list. Also, I've always wanted to go on a food trip with fellow foodie bloggers Nena, Wysgal, Joey and our friend, Spanky. Our Claude Tayag lunch was perfect — cold towels sprinkled with baby cologne, Pampanga's comfort food served in Claude Tayag's artistic style, a foodie EB like no other! We wasted the four-hour lunch taking pictures of Bale Dutung and listening to stories by Claude.
If you have never been to El Nido and arrange for a breakfast, lunch or dinner exclusively on one of the islands, then you are missing on one of the awesome experiences — only in the Philippines! It feels for a moment that you own the island and you can do what ever you want — swim, eat with your hands, lie on the sand, or just simply waste the time away. The best part is everything is setup by El Nido resort and you don't have to worry about cleaning up after.
I can't stop raving about Vieux Chalet because in its 20+ years of existence, it was able to manage to serve the best gourmet dishes with a romantic view of Manila. The pastas, bread, and milk are home made by the owner. Everything is freshly cooked with fresh ingredients for a memorable gourmet meal. Surprisingly, still not a lot of people have been to this place and continues to be Antipolo's secret hideaway literally a house-on-a-hill.
After discovering Ugu Bigyan in Quezon, it was been my quest to find the best restaurants in the Philippines. I firmly believe that Philippines has the best restaurants out there — perfect ambiance, awesome food, and excellent service. Until now, I never ran out of restaurants to explore. If you haven't been to Ugu, you should try Ugu's kulawu and lato salad. We love Ugu Bigyan!
We never forget La Cocina de Tita Moning not only because of her Bread Pudding and the Paella, but also because of the entire Old Mansion House dining experience. I missed this moment when Brobo (older brother, Lorenz) was still based in the Philippines and we would eat together as a family. This Malacanang Mansion serves one of the best Spanish food in the Philippines.
9. Antonio's Tagaytay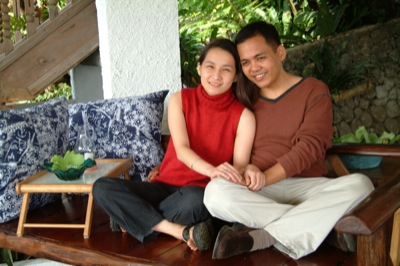 Ever since we discovered Antonio's before we got married last Jan 2003, Antonio's remains to be the no. 1 restaurant in the Philippines. I can still remember the first time we tasted Antonio's salad with creme brulee, simple, tasty gourmet meals and the desserts with our wedding entourage, we were all raving about it. We also are proud of our pre-nuptial shots in Antonio's.
How I wish I took a shot of our first ever Lolo Dads' experience. Funny thing is we thought Lolo Dads was a grill place so I was so proud to treat Rache for a date. After entering, we found out that it was a fine dining place, and we ended up paying P1,000+/head. We've been laughing about this experience ever since.
LABELS: Anton, Table Guest