By franco on 10 July, 2007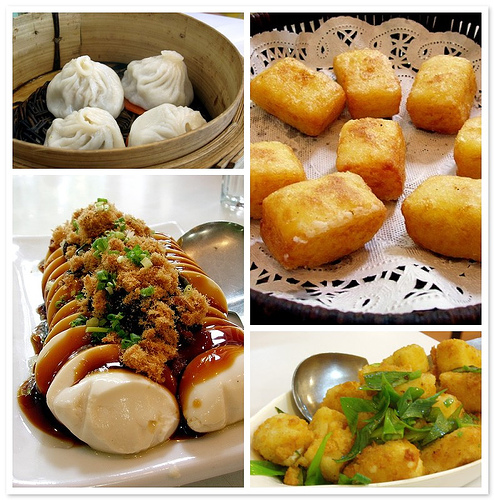 From top left, clockwise: Steamed Xiao Long Bao, Banana Nuggets,
Salt and Pepper Fried Tofu, Tofu with Century Egg and Shredded Pork

Connecting Shaw Boulevard to Wilson Street, A. Mabini could be mistaken as as just another road of old homes and shop houses; nothing more than a street that gets you from Mandaluyong to San Juan.
To avoid the daily grid of Manila traffic, I occasionally go down this one way road, with nothing really catching my eye except this little green bungalow with a small wooden sign. It looks like a Chinese restaurant but the owners don't seem too concerned about letting the public know that they exist. I'm intrigued, but not enough to try it.
During a random text conversation with Sharky about restaurants to visit, I ask her about this mystery restaurant along Mabini pretending to be a house. She informs me that this restaurant is very popular with local residents, a community secret that is not openly discussed in mixed company. The place is called Su Zhou Dimsum.
She immediately texts me a list of the dishes I must try. Like a child listening to an all knowing parent, I gratefully take it all in.
I must eat there soon. And I did. The very next day…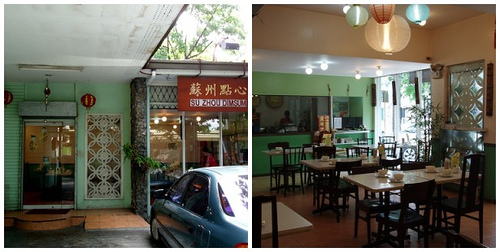 Su Zhou Dimsum is a small, green colored bungalow on the corner of A. Mabini and Araullo Streets. This 70s styled building probably has not seen much exterior renovation in a while, except for the open, three-car parking lot, the glass doors and the wooden signage with the restaurant's Chinese and English name written on it.
The interiors are pretty much the same as the exteriors. The walls are painted with a similar shade of mint green. The table tops are covered with easy-to-clean, white Formica and the wooden, dark brown chairs don't quite match. Beside the door is a slim fish tank filled with small gold fish (for decoration, not eating) and a clump of misplaced, Japanese paper lamps hangs from the ceiling. It reminds me of a 'hole in the wall' Bionondo restaurant, but a lot more sanitary looking.
Obviously, this place is not about design. But I'm not here for interiors. I'm here for the food.
Spying on our neighbour's tables, the popular dish is obviously the Xiao Long Bao (P75). It is after all the house specialty. Xiao Long Bao (translated literally as little basket buns) are soup dumplings. What makes these dumplings unusual is the soup surprise within. During preparation, these dumplings are not only stuffed with meat fillings but also a gelatinous cube of broth. Thus, as the Xiao Long Bao cooks, the gelatin cube melts, creating the soup within the bun. By the way, Su Zhou serves them either steamed or fried. We preferred the fried version because of its crispy bottom.
After two orders of the Xiao Long Bao, we decide to have two Tofu dishes.
The first was the Tofu with Century Egg and Shredded Pork (P125). Honestly, this dish was so pretty on the menu, I could not resist ordering it. In the taste department, it did not disappoint. The silken tofu is dressed in oyster sauce then garnished with sliced century egg, shredded pork flakes and spring onions. The mix of the salty egg and the sweet pork, the peppery spring onions and the milky tofu make this a must order; a visual and culinary treat.
Next, we had the Salt and Pepper Fried Tofu (P80). A pretty straight forward dish. Cubes of silken tofu are covered in seasoned bread crumbs, deep fried and garnished with spring onions. Dipping the tofu in a sweet and sour sauce, A. fell in love with this dish. As for myself? It was good but not unique enough to order again on the next visit.
To round up our lunch, we ordered the Banana Nuggets (P70) for dessert. I first heard about this dish, reading a review of Su Zhou in Yummy Magazine. This dessert is made up of golden brown pillows; light and crispy on the outside and a warm, oozing banana puree on the inside. In a word, lovely. Simply lovely.
If you are looking for stylish and elegant Chinese dining, move on. But if you seek honest-to-goodness Chinese dishes that you won't soon forget, navigate your way to Su Zhou. Drive slow. You just might miss it.
SuZhou Dimsum
A. Mabini cor. Araullo Street
Mandaluyong City
Tel (02) 721-6105
Ground Floor Food Court
Promenade Greenhills
San Juan
Tel (02) 744-3846
LABELS: Franco, Manila, Restaurants, Su Zhou Dimsum