By franco on 1 June, 2007
During a family dinner, our discussion turn once again to food. More specifically, where to eat for an upcoming vacation to Baguio. The usual restaurants are mentioned. Then, my sister, C, the culinary goddess, declares that one of best restaurants in Baguio is a place called Salud Bistro.
Mental note to self. Google: "Salud Bistro", Baguio.
I find out that Salud Bistro is operated by a husband and wife team, Chef Paul Poblador and Nina Tesoro. He cooks and she handles the books. From a renovated section of fashion icon Patis Tesoro's (Nina's mom) Baguio summer home, Chef Paul created dishes by adapting locally available ingredients to dishes with decidedly European origins.
But sadly, I also discover that Salud Bistro is no more. It's been closed since October 2005. But there is a silver lining to this grey culinary cloud.
With the closing of their Baguio establishment, Chef Paul and Nina moved their entire culinary team into another Patis summer retreat (fashion pays well, I'm guessing). This time, they're based in San Pablo, Laguna. This means only one thing, a road trip to Kusina Salud.
In my opinion, food trips should never be done alone. So after sending out some quick e-mails, Senor Macho, Sharky and ten other friends enthusiastically join in. I contact Nina to make reservations. An e-mail conversation ensures. Given the size of our group, Nina and I arrange to have special menu of items not usually served in the restaurant or "off the menu". All created by Chef Paul.
Times are set. Transportation arrangements are made. Maps are download. Road trip.
A little note on the map. Kusina Salud has a website where they provide diners a map and directions. The map is seriously not to scale and it only provides you with a general idea for where you're supposed to pass. The directions, for the most part, are more helpful but they can be confusing at times (what exactly is a junction or a blind curve?), especially on an empty stomach. Consider yourself warned.
We arrived in Kusina Salud after a fairly uneventful, two hour drive. After we park our cars, we walk through a weather-worn, gated archway into a place that feels more nature park than restaurant. A short walk through a secret garden and you're suddenly at the front door of the restaurant.
Kusina Salud's interiors are exactly what one would expect, being the former summer home of Patis Tesoro. It is space that adheres to a Pinoy sense of style. But if you look around, you will be surprised by eclectic touches of art that break up the traditional aesthetic.
Once our party settles down, our meal begins.
We start with the Tinola Sa Tanglad. This dish of locally grown, 'native' chickens in a lemongrass broth infused with baby papaya and young sili leaves is a good start. The tinola is very flavorful mainly because of the broth imbibing the essence of free range chickens, But the taste is nothing new to Pinoys, who have had tinola in one form or another.
The following dishes came in quick order and were served family style with large bowls of locally grown brown rice.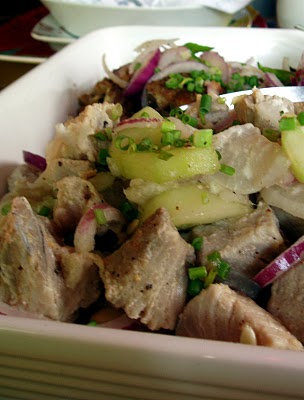 Sinuglaw
Sinuglaw is a salad of tossed fire-grilled pork belly and fish ceviche topped with fresh fettlehead fern and pickled radish. I don't know about you, but my idea of a salad tends toward a large majority of vegetable or fruit ingredients. In this dish, veggies and fruit are a serious minority.
What you have is a lovely mixture of roasted pork and raw fish 'cooked' in sugar cane vinegar, mixed in with sliced red onions, red hot chilis and a minced, oddly edible fern. Alone, grilled pork belly and our Filipino version of ceviche are two dishes that I adore but together, they hit the spot. My one concern about this dish is the fish, which tends to lose its tenderness over time as it cooks in its vinegar dressing. So eat fast.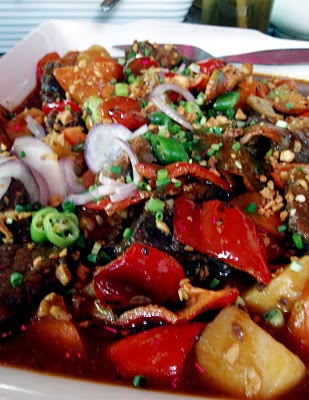 Kalderetang Kalabaw
The Kalderetang Kalabaw is a traditional carabao-meat stew with organic tomatoes and bell peppers infused with spicy hot chilis. I got a bit worried when I heard that we would be dining on water buffalo meat. Not for myself as I eat practically anything but for my lunch companions. Will they be comfortable eating an animal considered more abeast of burden than a source of protein, not mention it's also the Philippine national animal? Chef Paul warned us that because buffalo meat has less fat than beef, it tends to be tough if not cooked long enough. This makes it, in my opinion, the perfect meat for the slow cooking process of a stew.
After a moment of hesitation, we all dug in. I have a serious love for stews of all sorts. This dish only reinforces this love. This kaldereta is both sweet and spicy. The tomato based sauce is warm, rich and is filled with flavour. And the kalabaw meat? It is a bit tough but it gives more robust, red meat flavor that you will not get from fat marbled beef.

Sinugno are farmed tilapia fillets wrapped in mustard leaves, stewed in rich coconut cream with fragrant local-ginger and green chilis. This dish is the hands down winner of this meal. The tilapia fillets are poached to tender fish perfection. The mustard greens provide a great astringent counterpoint to the sweet, spicy and rich coconut milk.
As I have said before, I have an obsession with anything cooked in coconut milk. most especially fish. If you are like me, I strongly suggest you get into your car, drive to Kusina Salud and order this dish. It is that good. It should not be missed.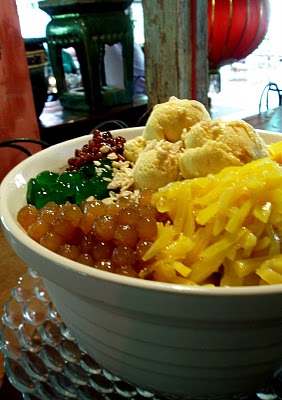 Halo-Halo ng Laguna
At this point, most of us were stuffed. Then, it came.
Don't be fooled by the picture above, this normal looking bowl of Halo-Halo ng Laguna was large enough feed a small army. We were all giddy with excitement at the idea of digging into this monster of a dessert.
For the uninitiated, halo-halo (from the Tagalog word for mix) is a popular Filipino dessert, especially during hot, humid summer months. This favorite snack has no set recipe as every Pinoy kitchen has their own version of it which they all claim as the best.
The mother of all halo-halos before us, had the works: sugar palm fruit (kaong), sweetened kidney beans, nata de coco, green and brown tapioca (sago), purple yam (ube), shredded jackfruit (langka), coconut sport (macapuno), and plantains (saba), pounded crushed rice (pinipig), red mung beans, topped with several scoops of mango ice cream and served with a cream caramel flan (leche flan). Simply, yum.
Creating Pinoy dishes for a Filipino market can be daunting, simply because we all have opinions on what Filipino food should taste like. And when we go out, we want something different from what we have during our daily routine. Honestly, I came expecting food that was European in technique but local in choice of ingredients. Instead, I left appreciating how traditional Pinoy food can be elevated and taken to new and flavorful places.
I love small, independently operated restaurants like Kusina Salud. There is an honest passion for food and a desire to bring out the best their talent and ingredients can muster.
Like all destination restaurants, Kusina Salud is about the experience. Taking that long, leisurely drive, walking around the establishment, seeing the sights and of course, enjoying the food. No rushing to finish. No hurrying to go somewhere else. Sit back, relax and let Jerome (our server) and Kusina Salud take care of you.
Kusina Salud
Cell: 0921-7726985
Laguna: 049-2466878
Manila: 02-6995035
Telefax: 02-6995036
kusinasalud@gmail.com
Please check their website for a map and directions to Kusina Salud.

LABELS: Franco, Kusina Salud, Laguna, Restaurants, The Travelling Table