By Guest on 25 June, 2007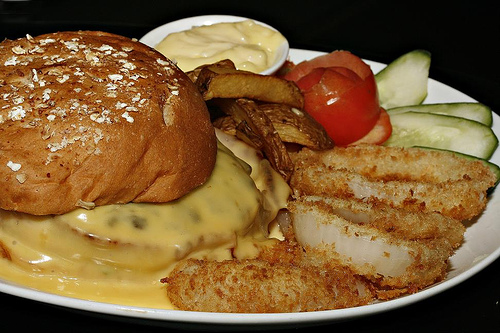 Franco's note:

When we asked Christine of Ramblings from a Gypsy Soul to join us in our last Table Conversation on the best burgers in town, we were expecting maybe a one or two paragraphs reply. Instead, we received this. An answer so comprehensive and complete, it deserved its own post. So here it is, a Gypsy's ramblings on the best burgers in town…
I was quite amused and challenged when I saw the topic for this post because compared to most people I know, I'm not much of a burger person. Don't get me wrong, I love burgers just as much as the next person, but I rarely go out of my way for it and am definitely no expert. This is just one of those things I prefer home-made, with all
my
good stuff mixed in or crammed in and made to my liking.
I'm not spared though from the occasional burning need to have a burger in my hands and it's juices streaking down to my elbows, when dining out. Listed below, in no particular order, are burgers found here in Manila that I love; burgers that I will be happy to feast on instead of my usual pasta at my favorite Italian restaurant; burgers that, in my opinion, will make converts of even the most cantankerous non-burger chompers out there:
Chili's Peppercorn Burger – If you crave good old-fashioned chunky American hamburgers with heaping home-style fries to go with it, Chili's can't be beat! Their original Oldtimer is great but my favorite has to be the Peppercorn Burger. The massive patty is grilled and crusted with crushed peppercorn and aside from the usual trio of pickles, lettuce and tomato, it is crowned with Awesome Blossom – Chili's famous battered and deep-fried onion strings – for that perfect crunch. But wait! That's not all. There's bleu cheese too, and I adore bleu cheese especially in my burger, but there isn't enough on the burger so you have to ask for extra on the side.
The Barbarian from Kublai's Rock in Magallanes (above photo)- The burger for your inner savage! The best part about this juicy half-pound burger is that it's wrapped in bacon and topped with oozing melted cheese! It's It's not uncommon for me to skip the Mongolian buffet altogether in favor of this big guy, considering the buffet is what I usually go for. Everything about it is perfect, down to the bun which is in fact that the same bread they slice up and serve with their appetizers. If the size is too daunting, you can order the smaller Barbarian's Wife.
Bun on the Run's Choriburger – Who doesn't love this?! That soft crumby bun, the crunchy coleslaw, the spicy and delicious chorizo patty and that creamy soft cheese! Oof, I'm drooling now! Even the funky smelling burps that lasted two days long were not enough to put me off. I was among the many who mourned it's demise a few years back and rejoiced in it's revival at Metrowalk. Yup, I drove to Pasig as soon as I found out and am happy to note it's almost as good as the original. It may have decreased slightly in size but this is still the best choriburger in town.
Hot Shot's Kamikaze Burger – When I prepare my own burgers, I like to crumble bleu cheese on top or slather it in wasabi mayo before I slap on the top bun. Wasabi mayo, like bleu cheese, propels the burger to a whole new dimension which is why these are my favorite burger toppings. Hot shots achieves this with it's quarter-pound Kamikaze burger and at a great price of only P90. The wasabi mayo in the Kamikaze is not so in-your-face, it's mild enough so even the uninitiated could handle it.
For my 5th choice, I am torn between the Boracay chorizo burger and Brother's Burger. But since I already mentioned the Choriburger, I'll go with Brother's Burger with cheese and sauteed mushroom. The patty is flame-broiled and tender and already pretty good on it's own but when topped with their special cheese and yummy sauteed mushrooms, it is excellent! Brother's really doesn't have a bad burger, they're all good. Ok, it's not technically a burger, but have you tried their Cheese Steak sandwich?! Ooh la la! Now if only they bring back their wasabi mayo.
So much for not being a burger enthusiast huh? 😉 Thank you for inviting me to be a Table Guest, guys!
LABELS: Christine, Table Guest