By franco on 8 June, 2007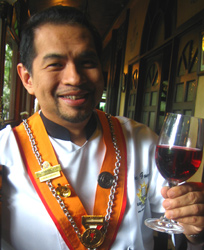 A
t 23, Chef Gene Gonzalez opened his first restaurant,

Cafe Ysabel

.
Since then, he has opened other restaurants and a culinary school called

Center of Asian Culinary Studies.

He is a Ten Outstanding Young Men awardee in the culinary arts and an author of a volume of books called

Pinoy Classic Cuisine Series

. Chef Gene is simply an icon of the Philippine culinary landscape.
Who in your life has influenced your cooking the most?


My grandmother, Dona Rosario Arnedo Gonzalez, a person who maintained a traditional Kapampangan household with a huge kitchen staff that revolved around produce and seasons.
Which book has had the biggest impact?
The book was

Great Chefs of Europe

– all the greats from Bocuse, Guerard, etc and their dedication to fine dining.
What was your first job in the food business?
I waited on tables in our small coffee shop called

Sugar and Spice

when I was twelve.
When did you decide you wanted food to be your life?
I was a banker and a good one with a hobby for cooking. What made me quit my banking job though and plunge into serious cooking was the movie,

Who's Killing the Great Chef of Europe?

Starring Jacqueline Bissel, Rober Marley & George Segal. When I saw the passion for cookery, I wanted to be a chef and quit the next day.

Where has your passion for food taken you (literally or figuratively)?


It has taken in and taken off a few pounds. It was put me on TV and gotten me guestings abroad. It has created intrigues. It has seduced but best of all it has gotten me so many friends and so may fantastic experiences. I could have become rich following other paths but even the rich would become envious of the adventures that came my way via cuisine.

Which restaurant meal (foreign or local) do you remember the most?


Several memorable meals I've eaten by the masters such as Bocuse, Heaberlin, Le Divellec, Guerard, Chapel and Puck.
Besides your own place, what's your favorite restaurant in Manila?
I like

Lolo Dad's

because of Chef Ariel's untiresome dedication to his art. I also like

Prince Albert

, if only because it is the last bastion of fine dining left in the country. When this restaurant goes, fine dining may disappear.
What junk food do you love?

I actually like the little Thai snacks and nibbles of every sort. Is there a food you just can't seem to enjoy?


Tinned or canned food, unless it's caviar.
Just between us,

what are your future plans?

I'm pursuing my cuisine which integrates Asian ingredients together to form a distinct cuisine that bridges eastern flavors together.

The photo of Chef Gene is from their website. Click here for more information.

Cafe Ysabel
455 P. Guevarra St. cor C.M. Recto
San Juan, Metro Manila
Telephone: (632) 726-9326, (632) 722-0349

LABELS: Cafe Ysabel, Chef Gene Gonzalez, Manila