By franco on 11 June, 2007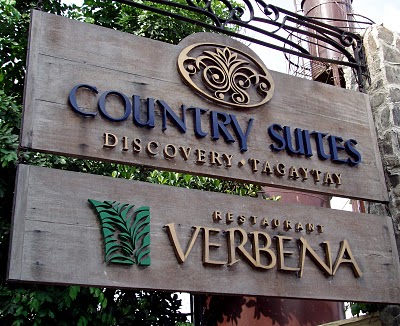 Welcome to Verbena
I have a bias against hotel restaurants. It probably has something to do with the theme park feel of such establishments. A cold and calculated precision of how such places are operated. A feeling of creating a product to sell, instead of pursuing and sharing a passion. An unfair judgement? Admittedly, yes.
My likings tend to move toward the small, independently-run restaurants. Restaurants run by individuals whose love of food have made them decide to live their lives fulfilling this passion; make it their life's work.
This is my conundrum. Restaurant Verbena.
I know that Restaurant Verbena is owned by the Discovery Group but one cannot help but taken in by the charm of this place. A converted summer home, this property exudes a warm, comforting feeling. It is small and intimate and yet, it has the fingerprints of a well-oiled corporate hotel establishment.
Love it? Hate it? I decide to place my biases aside and let Verbena speak for itself.
Leo, our server for the day seats us, smilingly hands us our menus and returns promptly to take our drink order and later, our food order. As expected the service is spot on, friendly, courteous and yet not overtly familiar. The standard of good Filipino service in such places. For the distance you travelled and the price you pay, how can you expect anything less?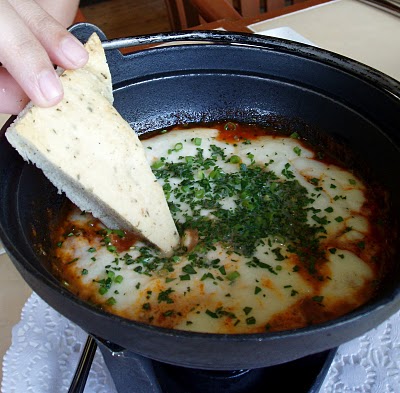 Organic Mozzarella Cheese Pot
Once we settled down, we begin with our opening course, the Organic Mozzarella Cheese Pot(P260). This dish served in cast iron hot pot, along with wedges of Foccacia bread to dip the warm cheesy concoction.
Biting into this cheese-tomato fondue was like eating a deconstructed margarita pizza. The oozing mozzarella cheese, the tangy tomato sauce and the distinctive hints of basil and oregano made this dish flavorful but not an overtly thrilling dish. It was familiar. But after the relatively long drive, familiar was exactly what we needed to get us started.
US Angus Short Rib Goulash
As I have said in an early post, I love stews. And this stew was no exception. These cuts of Angus beef made even more 'falling off the bone' tender are slowly cooked in a tomato based sauce. Flavored with roasted onions and given a caraway seed top note, this US Angus Short Rib Goulash(P360) was warm, rich and flavorful. What better to accompany this stew? Chef David created this creamy potato puree. This buttery mash of potatoes finely pureed to a creamy consistence, was the best I have ever had.
My only qualm about this dish? There was not enough.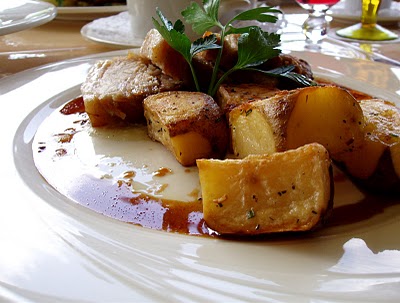 Crispy Seared Pork Belly
When one read this about this dish on the menu, you cannot help but be drawn to it. Except for you vegans out there, who doesn't like pork? This dish could have easily gone the way of a Lechon Kawali, fried to an inch of its life, tough, dry and virtually, inedible. I'm happy to say that this dish is far from that.
The Crispy Seared Pork Belly (P420) literally melts in your mouth. The meat is roasted to a tenderness that it almost makes chewing unnecessary. And as a nice contrast, the pork crackling provides a crispy bite. The sherry-prune reduction that accompanies this dish is more sweet than savory. The sweetness of this sauce is a perfect complement to this roast pork dish.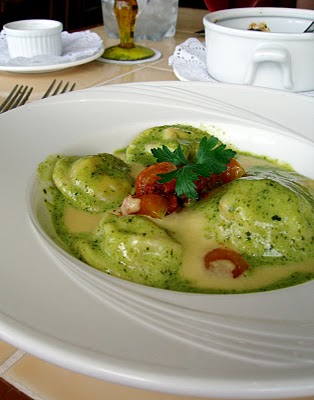 Crabmeat and Grilled Corn Ravioli
When we asked Chef David Pardo de Ayala, the Corporate Chef of the Discovery Group, what his favorite dish at Restaurant Verbena was, he specifically mentioned the Crabmeat and Grilled Corn Ravioli (P360). With that recommendation, this dish became a definite must try.
Each fluffy pillow of ravioli is stuffed full of shredded crabmeat and kernels of corn. Along with the creamy pesto-like sauce, the stuffed pasta dish becomes a virtual symphony in your mouth. The sweetness of the crabmeat, the velvet texture of the sauce, the bite of grilled corn bits would have made this dish the winner of this meal but I found the ravioli a bit too al dente for my liking.
As much as A. and I wanted to try their famous Panna Cotta Heaven (P220 for two), we decided to pass. Brimming with cheesy sauces and rich, tender meats, we could not eat another bite. Dessert will have to wait for another time. Instead, we ended with a nice cup of tea.
Love it or hate it? One thing cannot be denied. Restaurant Verbena is a fabulous escape. A place to have a great meal, take in the breathtaking view of Taal Lake and let the day (or night) pass you by.
Franco's Note: By some twist of fate, we ended up returning to Restaurant Verbena and decided to try out their Panna Cotta Heaven. Sorry, no pictures. But let me put it this way, calling it 'Heaven' is very apt. Please try it as soon as you can.
Restaurant Verbena
Discovery Country Suites
300 Calamba Road, San Jose, Tagaytay City
4120 Philippines
Telephone: (63 46) 413.4567
E-mail: rsvn@discovery.com.ph
Website: www.discoverycountrysuites.com
LABELS: Franco, Restaurant Verbena, Restaurants, Tagaytay