By franco on 1 May, 2007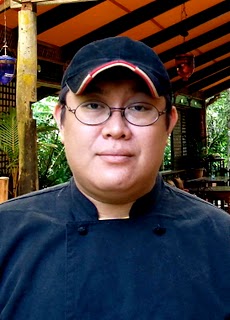 After studying at the California Culinary Academy and various cooking stints,

Chef Paul Poblador

, along with his wife,

Nina

opened their first restaurant in Baquio,

Salud Bistro

. Following that success in October 2004, he

took the culinary helm of his mother-in-law's Laguna home and

Kusina Salud

was reborn. Here, Chef Paul creates dishes that he describes as,
"modern renditions, interpretations and combinations of classic Filipino dishes".
Who in your life has influenced your cooking the most?
My wife. She has been there since the beginning. She gave me my first cookbook: a pasta encyclopedia.
Which book has had the biggest impact?
Marco Pierre White's

White Heat

: fabulous food, fab pictures and fab attitude. He's such a rock star.

What was your first job in the food business?
Part time cook at the Aviary. I used to chop up their sisig all night.
When did you decide you wanted to open Kusina Salud?
My mother-in-law wanted to try doing business in San Pablo, Laguna as we were doing so well in Baguio as Salud Bistro (in October 2004 before the
meningogoccemia scare closed us down in May 2006).
What is your favorite item on the your menu?
Binagoongan and Kare-Kareng Dagat.
Which restaurant meal (foreign or local) do you remember the most?
We used to love
Slaughterhouse
in Baguio: fresh meat and cow blood in the wee hours of the morning. In the States,
Blondie's Pizza
in San Francisco: cheezy, sleazy and so American.
Besides your own place, what's your favorite restaurant in Manila?
In Manila, I would recommend Chef Ariel Manuel's Lolo Dad's. He's in a league of his own.
What junk food do you love?
Burgers and more burgers.
Is there a food you just can't seem to enjoy?
Okra, saluyot and other slimy veggies.
Just between us, what are your future plans?
To continue to serve good eats at good prices. That's a recipe for success. We do want to expand but to expand while keeping our quality standards intact is the whole gastronomic experience we aim to consistently deliver to our customers.


Cell: 0921-7726985
Laguna: 049-2466878
Manila: 02-6995035
Telefax: 02-6995036
kusinasalud@gmail.com
Please check their website for a map and directions to Kusina Salud.
LABELS: Kusina Salud, Laguna, On The Table, Paul Poblador