By franco on 8 May, 2007
At first I wasn't sure if it was a tarot card reader in the corner or the waiter. It turns out it was a Balinese Wayang shadow puppet. I may have been confused by the waving porcelain Good Luck cat blocking the view. Either way, I can see what Sharky and Franco mean by eclectic, although eclectic doesn't seem a big enough word to describe the interior of the lovely Café Juanita. The décor almost speaks for itself. To be thorough, here are a few more things to be found at Café Juanita:
Embroidered tablecloths, polyester for anti-stain
Crocheted seatback covers
Travel and wedding souvenirs
Bottles of wine, drunk long ago
The Tatler seal of approval
Upside-down umbrellas on the ceiling, possibly for an indoor squall or a quick singkil
The Last Supper
Time zones in San Francisco, Stockholm, and Café Juanita
Glass grapes, glass grapes, and glass grapes
Your Mama's aparador with Chinese porcelain objects (for sale)
Crazy red hexagonal tasseled Chinese lanterns
Dreamy James Bond songs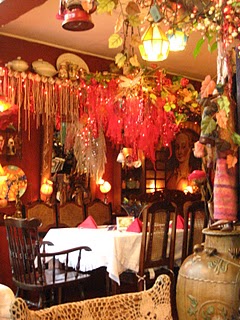 Everything including the kitsch-en sink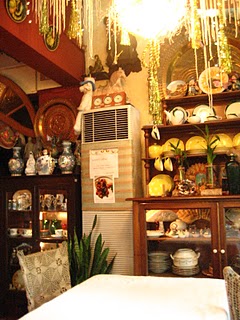 Every day is Christmas at Café Juanita
Some might call it homey (if your mom is Madame Auring) or a charming neighborhood restaurant or a place to find comfort food. Thinking about that made me wonder: What does "comfort food" really mean? What defines a neighborhood restaurant? And what does it imply about our expectations? Do our standards rise or fall when the context changes?
It seems that for some, "comfort" refers to the emotional connection that food makes with the person eating it. For instance, my now-New Yorker Tita Conchita, upon trying The Choc-nut Cake at M Café, spewed out a wave of nostalgic joy over it, followed by "Wow, I haven't tasted Choc-nut since 19…forgotten." Or maybe it's the familiarity—"It feels like my lola's sala, I could take my shoes off in here."
For others, perhaps the feeling of authenticity is what counts. If it's old and came together organically over time, does the experience feel more real? Bubba Gump's certainly looks old and comfortable, but it won't convince anyone that they're in a Louisiana shrimp shack.
Or is a certain semi-baduy factor required for the "comfort" label? I can't envision a restaurant with beautiful design that I would call a neighborhood place. Does the neighborhood restaurant allow us to make an excuse for Monoblock chairs? (For the record, Café Juanita had none.)
More importantly, does the "comfort" label mean our standards will change if somebody has bad taste? If what we're talking about is expectations, can you eat the exact same food in two restaurants and be happy in one because the place looked like a cafeteria and in the other be unhappy because the place looked so nice?
If the Peninsula served Café Juanita's Balaw-Balaw salad to me in Old Manila, I might ask, who vomited on my plate? However, in Café Juanita, I thought the salad was surprisingly good. In Amici at Don Bosco on Pasay Road, I thought the food was fun. If they served the same Amici pasta in Paparazzi at Edsa Shangri-la Hotel, I'd say it was sloppy and unrefined.
I'm still curious, because I can't figure it out. If you're still reading at this point, enough of the machismo and on to the review…
The first dish, Balaw-Balaw Salad with Romaine, Arugula and Mustard Leaves (P174), was surprisingly good. In fact, it would have been a great dish if it actually had romaine, arugula and mustard leaves. The chef did get the fermented rice, shrimp, spices, and crispy phai phai bits right. Plus, a couple of surprise ingredients: sliced olives, and the most creative leaf of all—iceberg lettuce. Contrary to popular opinion, I rather enjoy the crisp, flavorless nature of iceberg.
The saving grace of the dish was the light vinaigrette which had a pleasant, mild ginger flavor. Even with iceberg lettuce, the combination of the sweet and savory dressing and balaw-balaw was interesting and refreshing. I can imagine its potential with other dishes, even something as odd as vanilla ice cream.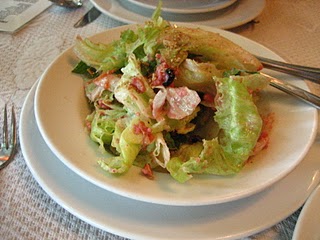 Balaw-Balaw Salad with Romaine, Arugula and Mustard Leaves (P174)
Following Sharky's and Franco's taste buds, Thai Crispy Catfish on Mango Salad (P152) was the next item in the lineup. The texture was perfect. The shredded, deep-fried catfish was not too oily and provided a pleasing contrast with the vinegary green mango. I especially liked the purple onions.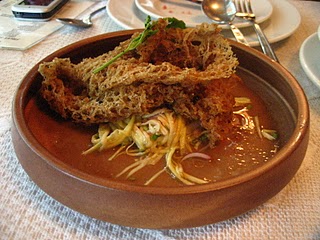 Thai Crispy Catfish on Mango Salad (P152)
With all due respect to the barangay, I would have bet my moustache that I couldn't find Chao Thom Shrimp Dumplings Wrapped on Sugar Cane in Barrio Kapitolyo. I didn't even know what that was, but it sounded exotic. But there it was, Chao Thom Shrimp Dumplings Wrapped on Sugar Cane (P257) or minced shrimp wrapped and grilled with rau thom (lettuce basil and mint). I'm glad I found it. Minus the mint and plus some sotanghon noodles, the dish was outstanding. The grilled, caramelized flavor was excellent. The sweet, spicy garlic chili sauce was a perfect complement.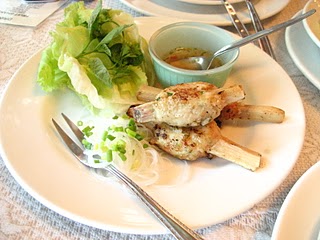 Chao Thom Shrimp Dumplings Wrapped on Sugar Cane (P257)
The Sugpo sa Gata (P389) did not have the most inspiring presentation I have seen (although things look better when your meal is already going well) but this course was another winner at Café Juanita. Prawns simmered in fresh coconut milk with delicious soft onions, garlic, butter, and hints of chili. Greedily, I scooped up all of the sweet coconut sauce until the plate was clean.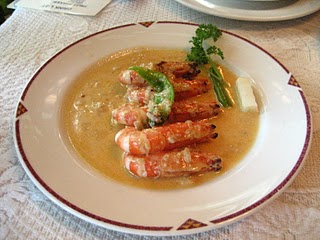 Sugpo sa Gata (P389)
As I looked up at the clock and got the time in…San Francisco, Stockholm, and Café Juanita, the Pinoy Ratatoy (Ratatouille) (P149) arrived. It's like taking a cute French dish and adding a Jinggoy Ejercito pompadour to it—I loved the name. In addition to the "sauteed traditional Pinoy tuyo with fresh tomato cubes and herbs on a bed of eggplant," the dish was mixed with zucchini—or rather, courgettes—and capers. Slightly oily but an excellent French-inspired side dish.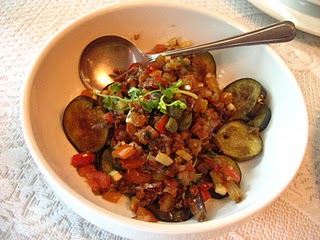 Pinoy Ratatoy (Ratatouille) (P149)
After one and a half hours of nonstop eating, I realized I was thoroughly satisfied. The food was 5 for 5. Although the menu photos looked more NBI mug shot than epicurean delight, Café Juanita deserves credit for pulling off the kitsch and the homey feeling with surprisingly good food. If there is any criticism to be had, it was a disappointing ending when the staff closed down in a hurry, shutting off air conditioners and lights while we were still eating. Otherwise the service was outstanding and the staff knowledgeable and attentive.
I still don't know what comfort refers to but if it means feeling good after a great meal, Café Juanita is the place to go. It's also worth stopping by Café Juanita's antique store next door, complete with turo-turo counter (where, according to some regulars, they serve the exact same Café Juanita food at a fraction of the regular price) with the restaurant's daily specials.
Appetizers P134-239
Soups P66-155
Salads P152-292
Pasta P177-210
Mediterranean Entrees and Steaks P197-495
Filipino Flavors P114-439
Asian Favorites P146-455
Cafe Juanita
No.2 United cor. West Capitol
Bo. Kapitolyo, Pasig City
Telephone Number: (o2) 632-0357
Mobile: (0916) 554-8107

LABELS: Cafe Juanita, Manila, Restaurants, Senor Macho