By franco on 25 April, 2007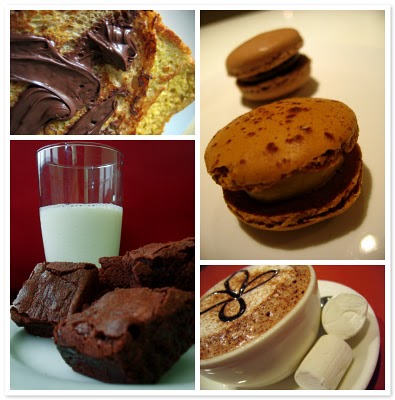 Chocolate and more Chocolate

Franco's note: Senor Macho is taking a short siesta. In the meantime, let us welcome Kate.
Franco says:
Chocolate. Chocolate. Chocolate.
Chocolate is more popular than ever.
What are your favorite chocolate products?
Sharky says:
Some favorites:
Pure choco: Lindt 70%, Villar's, Leonidas Truffe, Cailler Cremant, Felchlin Maracaibo.
Not so pure choco: Lindt Creme Brulee, Lindt Champagne Truffles, Neuhaus Creme Framboise, Reese's, Royce Champagne, Royce Mild Cacao, Kisses Peanut Butter, Nutella
Pastries: Mary Grace brownies, Mary Grace chocolate cake, Lelen Lim's Devil Food Cake, Jill Sandique's Concorde Cake, homemade choco chip cookies.
Drinks: Kablon Farms Tablea, Mary Grace chocolate eh, Godiva Dark Choco Drink.
Okay. I have a bad craving now.
How about you guys?
Franco says:
That is a serious chocolate craving list…
To be honest, chocolate was never really my deal. Don't get me wrong, I don't hate it, I just don't look for it.
I'm really more of a Skittles and Starburst kinda guy. But, there are some chocolate treats that I do enjoy.
I really enjoy the Churros y Chocolate from Dulcinea. It's family thing. It was once a Sunday family ritual to troop to Dulcinea and have breakfast there. The Churros y Chocolate was something I really looked forward to. I still do.
Chocolate Ice Cream? Not really me.
I was reading Olive Magazine one night a ran across a recipe for an Intense Chocolate Sorbet. Like most people, I usually associate sorbets with fruity flavors. I was intrigued by the idea.
Recently, my wife and I got this amazing ice cream maker. And I finally got a chance to try it out this chocolate dessert. The recipe I used is adapted from the Cuisinart website.
Dark Chocolate Sorbet
Makes 14 1/2 servings
Ingredients
4 cups water
1 2/3 granulated sugar
1/2 cup brown sugar, packed
2 cups unsweetened cocoa powder
1 tablespoon pure vanilla extract
Combine the water and sugars in a 3 3/4 quart saucepan and place over medium heat. Stir until the sugar dissolves. Whisk in the cocoa and bring the mixture to a simmer. Simmer for 2 minutes, stirring constantly. Remove from the heat and transfer to a medium bowl. Stir in the vanilla. Chill in the refrigerator for 2 hours.

Stir the chilled mixture. Pour into you ice cream maker. Following your ice maker's instuctions, let it thinken.

Transfer the sorbet to an airtight container and place in freezer for about 2 hours. Remove from freezer about 15 minutes before serving.
The best way describe it? Olive said it best. To paraphrase, it's like a intense chocolate Porshe rather than a chocolate ice cream Rolls Royce. Pardon the car analogy
Lastly, I love the Chocolate Souffle from Antonio's. Light, airy and full of bitter sweet chocolate flavor. With creme l'anglaise poured into it, it's like tasting a cloud of chocolate goodness.
…Maybe I like Chocolate more than I thought.
Kate says:

In no particular order:
KitKat from the States–preferably packed in those boxes that you buy at Costco. Philippine KitKat taste fake and are not so good.

Reese's Cups

Flourless Valrhona Chocolate Cake from the now-defunct Aqua

A box of Leonidas someone bought for me from Selfridge's, the London department store. They were the best chocolates I've ever tasted–not because of the giver–but because they were simply the best. However, I've never ever bought Leonidas for myself.

Chuckie chocolate milk. I have a tetra pack every morning for breakfast.

Chocolate chip cookies from Penny Brown (Penny Brown Classic, especially with a scoop of vanilla ice cream sandwiched in the middle) and the soft, chewy, small ones from the now-defunct Famous Amos

Chocolate chip cookie in a skillet that they used to serve in Tony Roma's and now Old Spaghetti House, topped with vanilla ice cream

Instant dessert: Five pieces of Hershey's Kisses every night

Chocolate chip cookie dough ice cream from Ben & Jerry's (does this count? If it doesn't, then the Decadent Chocolate Cake from Goodies & Sweets)

Brownies from a Pillsbury mix that my then-boyfriend (now-husband) baked for me once

Sharky says:
Oh yummy! Being a chocoholic, it still blows my mind how someone can not be fond of chocolate (I have a cousin who hates chocolate! Can you believe that?). I guess it's really a matter of finding the right "form" to put your chocolate in. : )
Franco, I'm curious. So, you don't eat any chocolate confections like the supermarket bars or the artisanal and handmade chocolates?
Franco says:

Ok. I will admit that I do like Butterfingers and Toblerone Dark Chocolate but really it's not my first choice of dessert.
As for the artisanal and handmade stuff, I won't refuse but will not seek out.
What do you love about chocolate?
Kate says:
They're especially delicious the week before and of your period. They satisfy a craving. Nothing else can make you feel instantly good or make you happy immediately (not even acquiring an expensive new It bag). Chocolate: endorphins on demand.
Sharky says:
I love the color, the texture, the taste (Did you know that chocolate has more than 50 flavors? It's this complex that, up to now, no one can replicate chocolate as a flavoring!), the shouts of glee and the big smiles I get when I give chocolate. I love the way it's packaged — from sophisticated to man-on-the-street type of packaging. I love the fact that you can eat it, drink it, smell it, feel it, and they all elicit the same joy.
So what do you like or don't like about chocolate?


Many thanks to Becky Kho for the use of her 'Yummy' photographs and to Kate for sharing her Chocolate thoughts.

LABELS: Chocolate, Table Conversation