By Guest on 8 April, 2007
Lutong Bahay (Homecooked Meal) cooked well is how I always describe Café Juanita. It's the reason why I keep going back there. I feel at home in this place. I go to this place regularly and make it a point to never bring strangers or mere acquaintances, only close friends and family whom I can let my hair down with and be as chatty or as quiet as I want to be.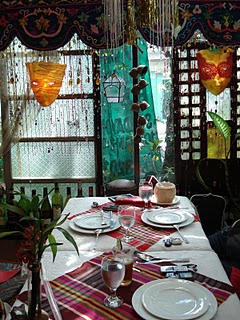 Perhaps it's the way the place is set up. Part of its appeal is the eclectic mix of furniture and knick knacks that, taken individually, can be on the verge of gaudy, but the attention given to putting these together reminds me of grandaunts who want to display their decades-old collectibles and attempt to come up with a look that perhaps only they can ever understand.
The menu has a similar set up. One finds Filipino, Chinese, Japanese, Spanish, and, recently, Thai dishes, being offered at any given time — which reminds me of a sibling's or my mom's specialties and kitchen experiments that I always look forward to regardless of whether the dishes match or not. The servings for each dish are good for 2-3 people sharing which, in our family, is the portion size of leftovers. Isn't it only at home when you can eat and really enjoy leftovers? And so, together with 2 people closest to me, I go back "home" once more to Café Juanita and try out some regular and new items on their list.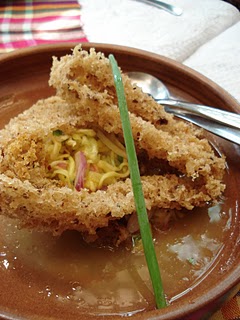 G tells me that he has heard the Catfish Mango Salad (Php152) is supposed to be good in Café Juanita. I silently wonder why, of all places, would he order that kind of salad here (I hardly regard it as Lutong Bahay.). Turns out G was right! Their version of Catfish Salad reminds me of how it is prepared in Bangkok. No floury old fish here. Only light crispy and tasty catfish that I could've easily mistake for finely sliced flavored potato chips without the grease.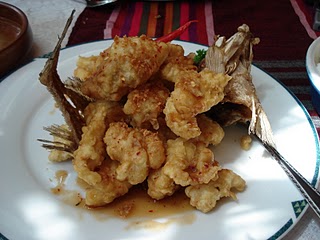 I then tell G and T that although the Laguna Fish is a must try, my personal favorite is the Lapu Lapu Fillet with the Tamarind Sauce (Php455). I guess this is their version of a sweet and sour fish dish, but the difference is the way the sauce coaxes my palate to taste the sweet and sour notes where these 2 flavors almost come out, shy away a bit, then comes out together to lightly coat the meaty fillet in my mouth. T and G mark this as their favorite dish for the day. Though I still like it, I am disappointed that it didn't taste as good as when I had it in my last 2 visits. Inconsistent? I hope that day is just an exception.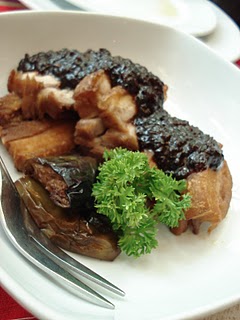 On to the Pork Binagoongan (Php242). I like this dish because of the way it's cooked, but this is not how I want my Binagoongan. I would actually call this dish Lechon Kawali with Bagoong Sauce because it's how I taste it and why I order it.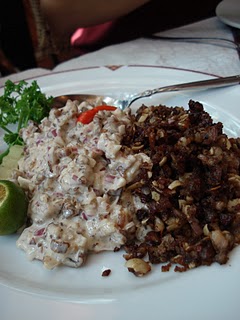 And my favorite for the day — Sisig Tofu (Php230). Nope. It's not a dish where tofu is substituted for meat. Uh uh. On one side of your plate is your regular sisig and on the other side is your minced silken tofu. I excitedly mix the two together and know that I did the right thing. The tofu balances the porky aftertaste of sisig and gives it a melt in the mouth consistency without the oil. I like this dish because I know I do not deceive myself into thinking that I am eating a healthier alternative (Nothing bad about this, but I cannot fathom eating sisig with meat substitutes.). It's sisig that's been experimented on and it has come out well.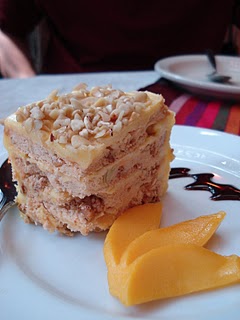 For dessert, we order Sans Rival (Like leche flan, I am in search of the best Sans Rival in our country). The Sans Rival (Php81 for a measly slice!) shocked me with its tiny size. This time, it really looked like a leftover slice! But what it lacked in size, it made up for taste. Their Sans Rival tastes like my cousin's homemade specialty which was chewy and did not scrimp on the butter and the egg yolks. It was addicting, but it was just too small!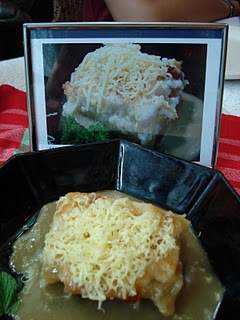 For the other dessert, we couldn't help but order the Cassava Cake (Php81 per slice) which, like children's grad pics in homes, had its picture prominently displayed on our table. I think it's the cheese bits that struck a taste bud, but we were challenged to check if the actual cake looked like the real thing. It did. And it was good. Just when you think you'd be getting the cloying sweetness of cassava, along comes the commercial cheddar cheese topping that puts a halt to the sweetness and begins a sweet salty and creamy mouthfeel that signals: "Okay. You've had a good meal. It's pack up time."
And so T, G, and I ask for the bill and go back to our daily routine. No definite plans when to go back to Café Juanita, but, just like home, you know you will be back over and over again, but no definite plans.
Cafe Juanita
No.2 United cor. West Capitol
Bo. Kapitolyo, Pasig City
Telephone Number: (o2) 632-0357
Mobile: (0916) 554-8107
LABELS: Cafe Juanita, Manila, Restaurants, Sharky