By franco on 17 April, 2007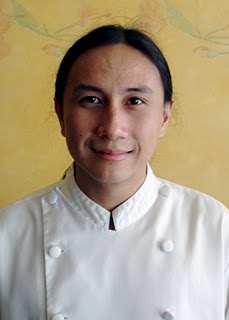 After studying at the Culinary Institute of America and working in stints in France and Australia, Chef Roland Laudico came home and inadvertently established a thriving catering business. Six years of catering and creating meals for paying guests at his Urdaneta home, he opened Bistro Filipino. Chef Roland is part of a new generation of chefs that are pushing the boundaries of Filipino cuisine, elevating our tastes to new levels and introducing our food to the world.
Who in your life has influenced your cooking the most?
My mom. Ever since I was very young (like 7 years old), she taught me. Even up to now, she still loves to cook and she still teaches me.
Which book has had the biggest impact?

I have read so many books that I don't have one favorite book. But the first time I bought a book for myself was about Asian fusion and that got me very excited.

What was your first job in the food business?
Dish washer and prep guy. In short, the dirty jobs.
When did you decide you wanted to open Bistro Filipino?

My family wanted me to open a restaurant for years. I just decided last year to open because I wanted a different challenge since we've been catering for six years already. So, [we decided] might as well. We were officially open October 10, 2006.

What is your favorite item on the your menu?

I like my version of the lumpia. It's ubod with chorizo and it's shaped like a crispy cone sort of like a temaki. But what's cool about it is that you top it with frozen spicy vinegar sorbet. You experience cold and spicy all at the same time.

Which restaurant meal (foreign or local) do you remember the most?

When I worked in L'Essentiel in France, my chef treated me to a complete lunch after my last day at work and it lasted for like 5 hours! I tasted 20 plus dishes with wine and cheese, the works. I couldn't walk straight after that.

Besides your own place, what's your favorite restaurant in Manila?

Lolo Dad's. I also love Japanese and Vietnamese food.

What junk food do you love?
I'm not a junkie type of guy. But, potato chips are OK and I like good chicharon with spicy suka!

Is there a food you just can't seem to enjoy?
I absolutely hate the sweet party spaghetti that you use red hotdogs, banana ketchup and other sweet stuff. I never liked it.
Just between us, what are your future plans?

Bring Bistro Filipino abroad and be the best husband and father to my family.
Bistro Filipino
Ground Floor, Net Two Building
3rd Avenue, Bonifacio Global City
Taguig City
Tel No: (632) 856-0634, (632) 856-0541

LABELS: Bistro Filipino, Manila, On The Table, Roland Laudico