By franco on 25 March, 2007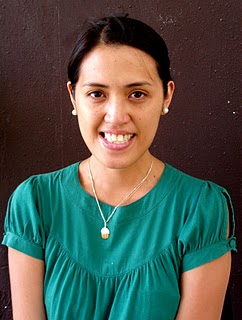 On 21 September 2006, Sonja opened the doors of her new venture, Cupcakes by Sonja. In just over six months, she has singlehandedly (and oh-so-sweetly) raised the collective blood sugar levels of many Manilenos who are more than willing to pay to her for the privilege. For Sonja, the sweet smell of success comes in the form of her little cupcake temptations.
Who in your life has influenced your cooking/baking the most?
I don't think I would have pursued this career path without the full support and encouragement of my family. I think my biggest influences were the chefs I got to work during the 2 1/2 years I spent working at Bouley bakery/restaurant in New York. It was my hardest job but at the same time it was the most fulfilling one. It was there I was able to work closely with renewed chefs Bill Yosses, Marc Aumont, Galen Zamarra and David Bouley. It was difficult since the pay was so low and I was working for 14 or 15 hours a day, 6 sometimes 7 days a week. But I guess when you work closely with people with their level of passion, skill, discipline and knowledge, you can't help but be drawn to their work and be challenged by the tasks they present to you. I learned the most from them and then I adapted their style to my own.
Which book has had the biggest impact?
Lessons in Excellence

from Charlie Trotter and any book written by Pierre Herme
What was your first job in the food business?
My first internship after taking up the Culinary Arts Program at the Institute of Culinary Education in New York was in a little, quaint restaurant in Gramercy Park called Verbena. They would make me peel potatoes for four straight hours or julienne carrots the whole day. Haha! I wasn't so happy doing that. They moved me to their Pastry Department after a couple of weeks and I just had so much fun. Right after that, I went back to school and took up their Baking and Pastry Arts Program.

But I guess the first paying job I had was at Bouley. I went in and pleaded the head Pastry Chef to make me work there even without pay. I guess he felt so sorry for me that he decided to sponsor me a working permit.
When did you decide you wanted to open Cupcakes by Sonja?

January 2005. We just had opened our third Good Earth Branch so I felt that it was the right time to take a break from operating restaurants and pursuing what I loved doing most which was Baking. I left for New York to get myself back in the environment where I fell in love with making desserts. I noticed the resurgence of cupcake places all over the city. I applied at Magnolia Bakery, which is famous for being the bakeshop that started the cupcake frenzy, and got the job. So when I came back, I revived my old kitchen at the back of our house and just started baking and experimenting on as many cupcake flavors as I can think of.
What is your favorite item on the your menu?

I love dark chocolate so I would go with the Melt-in-Your-Mouth Valrhona Flourless Chocolate Cupcake.
Which restaurant meal (foreign or local) do you remember the most?

The 12 course degustation menu at Bouley. We had a different wine per course. And canapes of Lobster, SeaBass, Salmon, Kobe Beef, Veal, Lamb and 3 courses of desserts. I do remember most the Phyllo Crusted Shrimp, Cape Cod Baby Squid, Sea Scallop and Sweet Maryland Crabmeat in an Ocean Herbal Broth that we had for our first course and their Panache of three salads with seared Foie Gras. Oh also their Granny Smith Apple Raisin Bread. Yum!
Besides your own place, what's your favorite restaurant in Manila?
There are so many…. On the top of my list would probably be El Cirkulo in Pasay Road. Everything I've tried just never disappoints. I always find it hard to decide which among their Beef Belly, Cochinillo Asado, or their Seabass wrapped in Jamon Serrano should I order as my main entree. Plus, their Chocolate Peanut Butter Tart is the perfect finale to any good meal.
Then there are certain places that I go to whenever I crave for a particular cuisine or dish. I am a big steak lover so for me, the best here in Manila is Gaudi's Chuleton de Villagodio(their Prime rib steak). For lamb, I love the braised lamb shanks of Je Suis Gourmand in Fort. For Chinese, Good Earth of course. I love Lily on the Pond, Tunaquitos and Popoy's Delight. For a fancy french meal, I would go to Tivoli Grill in Mandarin. And for a slightly cheaper French Meal, I would go to Le Souffle. And then for Japanese, its always a toss between Tsukiji and Sushi Tsumura.
What junk food do you love?

CHEETOS =)
Is there a food you just can't seem to enjoy?

Not actually food but more of a condiment — I can't eat anything with ketchup!
Just between us, what are your future plans?

Haha! Hmmm…. I do get asked alot if expansion is in the near future. I honestly don't have an answer to that yet. I always feel something gets compromised when you start opening in every mall around the city. I really don't see myself doing that. Maybe its not the most business-wise decision, but I do care more about keeping our customers happy by maintaining the quality of the cupcakes we offer For now, I really want to concentrate still on the store and just make everything better–whether its service, quality, appearance of the store and the flavors we offer.
Cupcakes by Sonja
1C03 Serendra,
Bonifacio High Street
Bonifacio Global City
Taguig City
Telephone Number: (632) 8560308
Email Address:cupcakesbysonja@gmail.com

LABELS: Cupcakes by Sonja, Manila, On The Table, Sonja Ocampo